Creators of Stitch Head visit School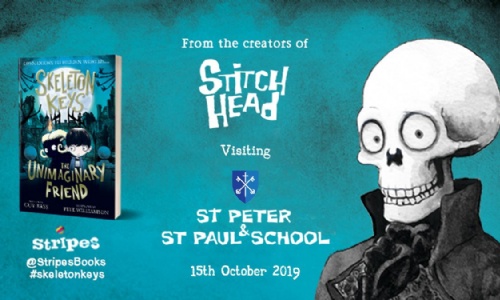 I am extremely excited to announce to you all to detail the plans for the afternoon of October 15th. We will be receiving a visit from both Guy Bass and Pete Williamson (author and illustrator of the Stitch Head series and the new Skeleton Key series of children's books).
"I don't leave the house very often... but when I do - I like to visit St Peter & St Paul Primary School."
The children were incredibly excited when they watched Guy announcing the visit in our special assembly on Monday morning!
Year 4 are currently studying Stitch Head as part of their English curriculum. They will therefore be receiving a specially tailored illustration workshop from Pete Williamson from 1pm to 2pm. At 2:10pm (until approximately 3 pm) all of KS2 will be invited to a presentation with Guy Bass in the hall. We would like to invite parents to attend this assembly with us. It promises to be lively, inspiring and memorable.
Please indicate on the attached form if you would like to join us.
Diss Publishing Book shop will also attend the event. They will be bringing a mobile book shop with them and will have numerous copies of Guy and Pete's books amongst many other titles. We will organise a system which allows children and parents some time to view and purchase books and will inform you about these arrangements before the date. Guy and Pete will be available to sign copies of their novels (those brought in on the day and those purchased on the day).
In order to help us fund this fantastic event, we would like to ask for a voluntary contribution of £4 for each Year 4 child and £1.50 for each Year 3, 5 and 6 child.
Please complete the attached form to let us know if you will be joining us. We very much hope that you can. Please also enclose the appropriate donation.
With very best wishes,
Mrs Hare