Competitions & Challenges
Book in a Box
Diorama Challenge Y1 – Y6
(optional for EYFS)
Create a diorama – bring to life your favourite
scene from your favourite childhood book.
As you may already be aware, all children have been tasked with creating a 'Book in a Box' or 'Diorama' as a homework challenge (To be handed in on November 1st and not before Wed 30th October). In other words, children are to recreate their favourite scene from their favourite children's book in a shoe box / cereal box / similar, using their choice of materials. The interior should be made by the child rather than purchased but adult support is welcomed!
We are working hard to develop and foster a love of reading for pleasure at Eye Primary School and hope that this challenge will:
engage children and their families in 'book talk'
encourage children to celebrate and recommend their favourite books
provide an opportunity for creative ideas to be shared with our community
raise money for additional books for our school library
Each diorama should clearly display:
name of the child
class
title of the book
a short description of the scene
After November 1st, a panel of judges will select two dioramas from each class as 'finalists' (those which most inspire people to pick up the book depicted!) These will be displayed near the hall during both parents' evenings and we would like you to help us choose an overall winner by placing a pound in the pot assigned to your favourite diorama. We then hope that the top 3 will be displayed in The Bank in Eye (to collect further votes from the wider community). The final winner will be announced towards the end of November and this child will win a rather special reading goody bag and have their diorama displayed in Diss Publishing Bookshop!
We do appreciate that not all families will have the resources to support their child with this project and so we are busy gathering shoe boxes, card and materials for you to help yourselves to, if needed. These will be available on Friday 18th October. The Fabric Shop and Shelf Interiors are being incredibly supportive and supplying us with lots of materials.
Also, as another point of assistance, during half term week (Thursday and Saturday from 10:30 – 12:30 and then 13:30 – 15:30) The Bank has kindly agreed to act as a 'hub' for the project. This means that there will be tools and materials stored there and available to use, free, to create the dioramas. Families are welcome to use the space there to create them.
To view booklists for each year group see bottom of this page.
We very much hope that you enjoy this project, and we are extremely excited to see the results.
Thank you for your continued support,
Mrs Hare, Miss Brown, Mrs Howman and Stephen Taylor (School Governor, Chair of Engagement Committee)
Here are a few ideas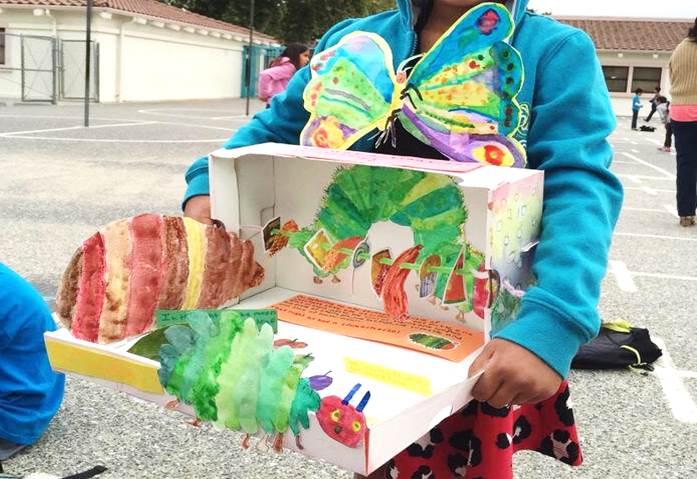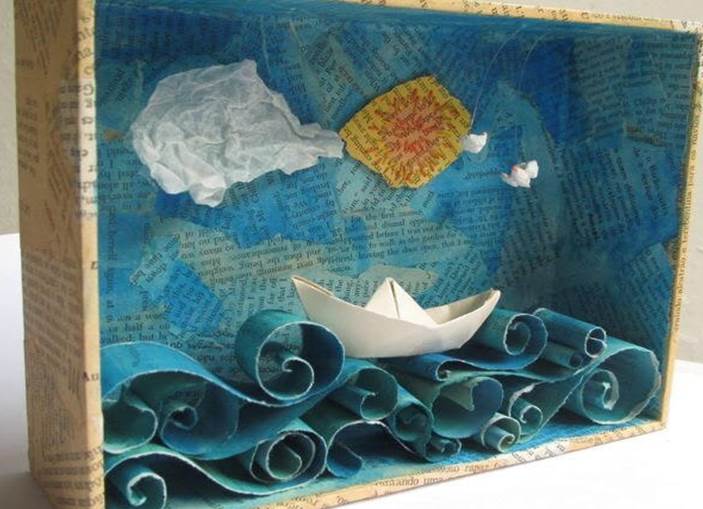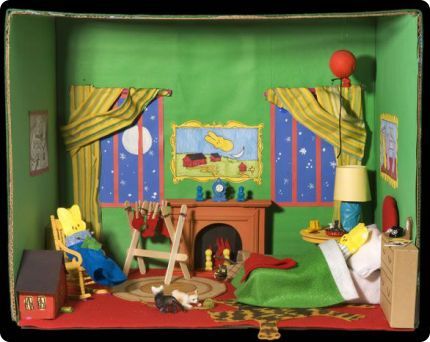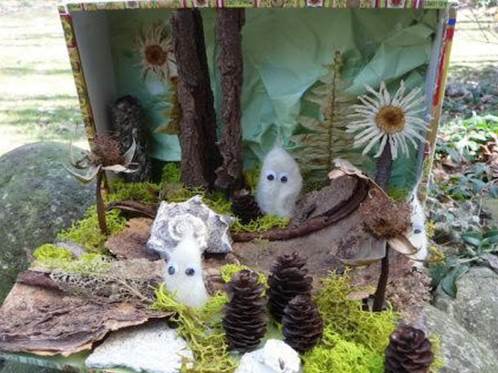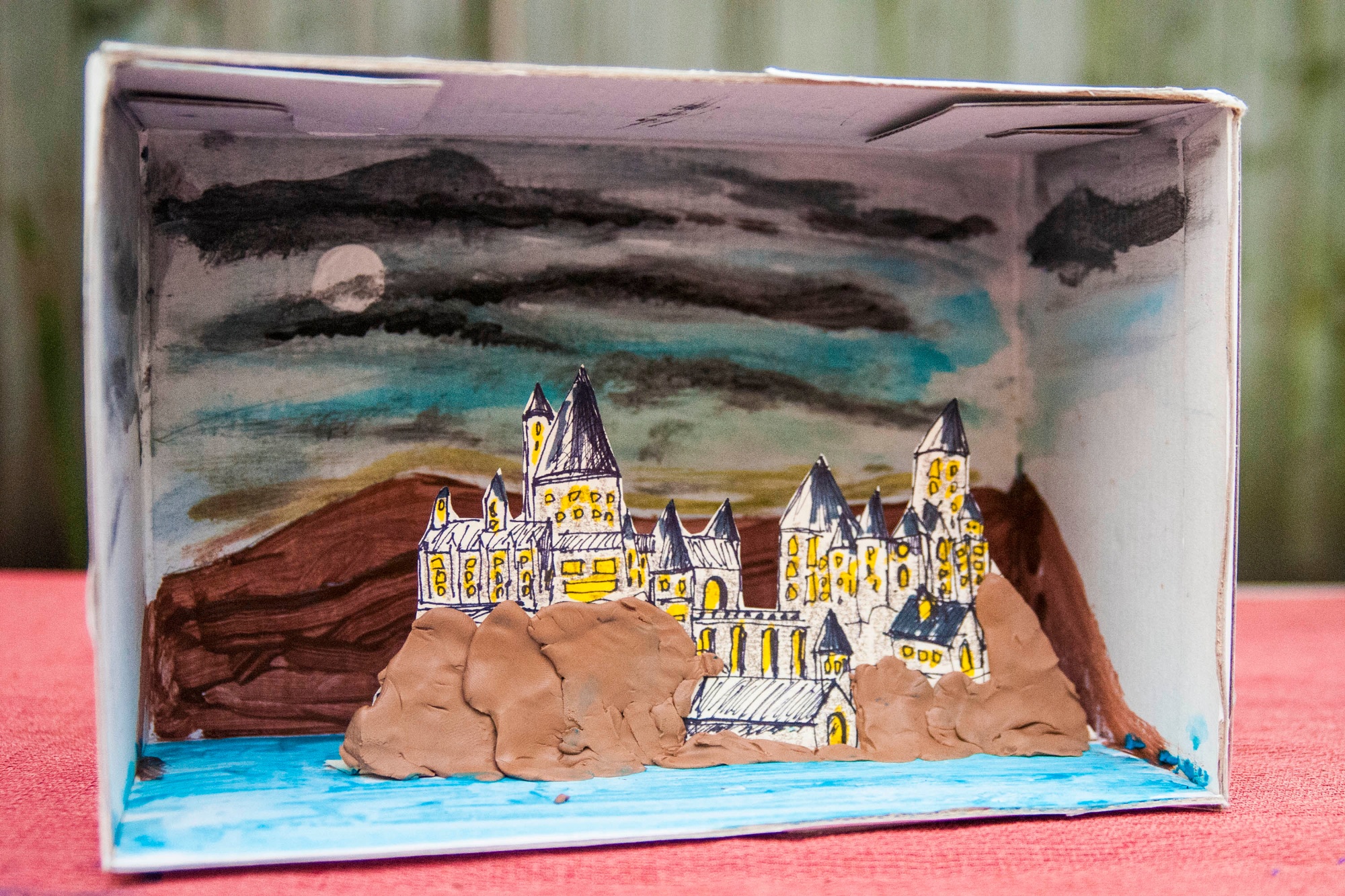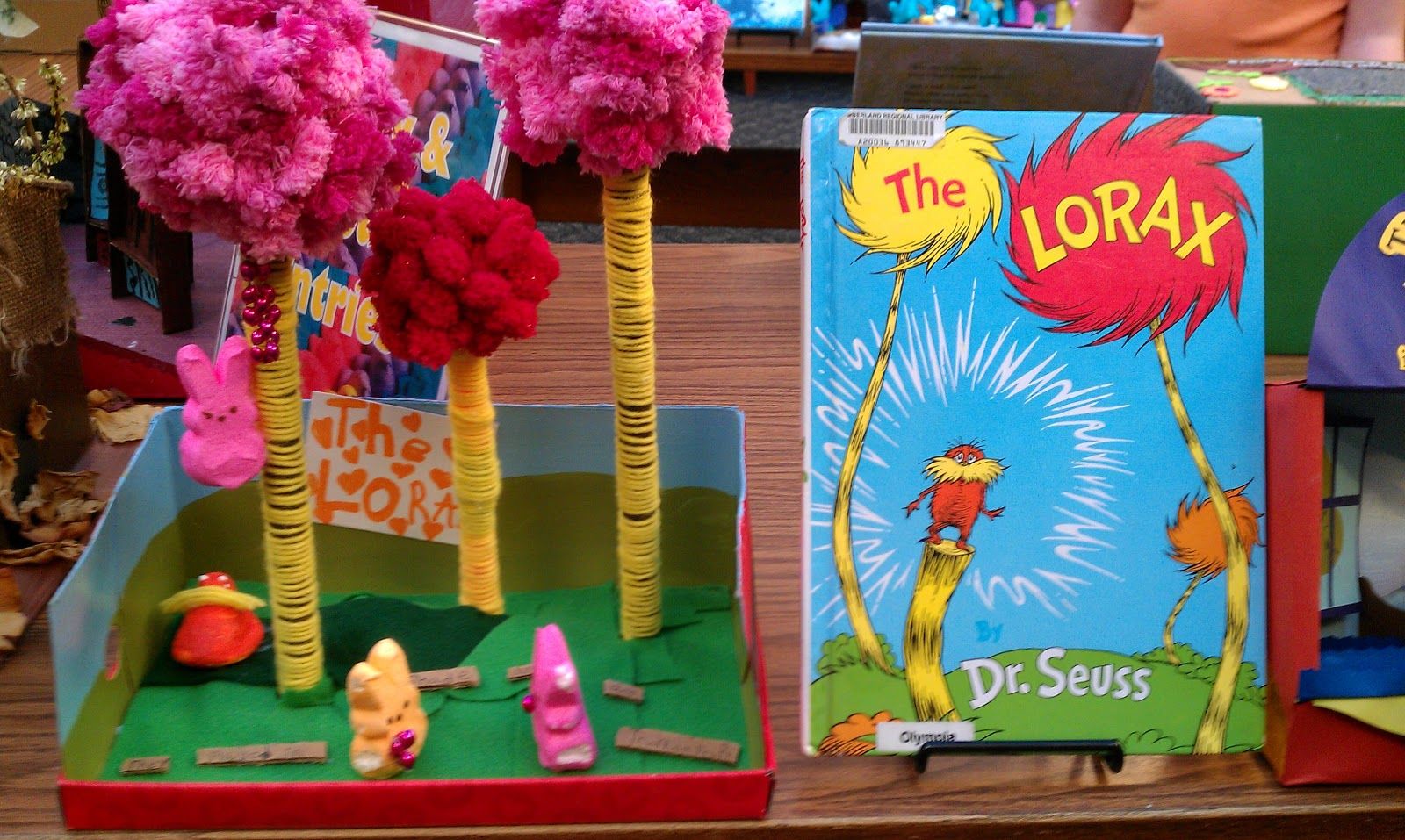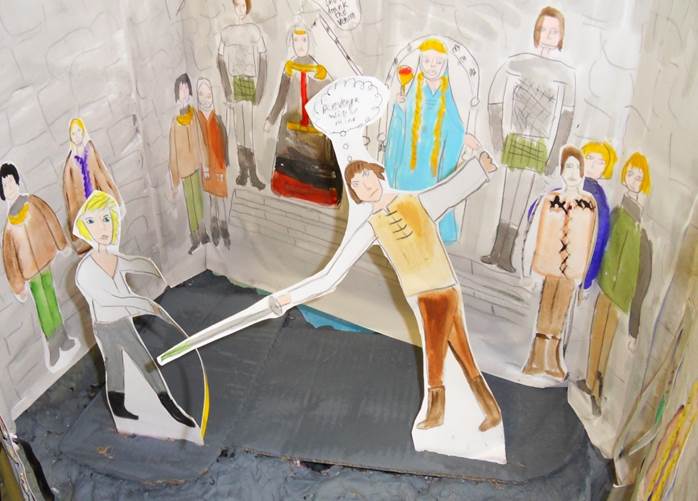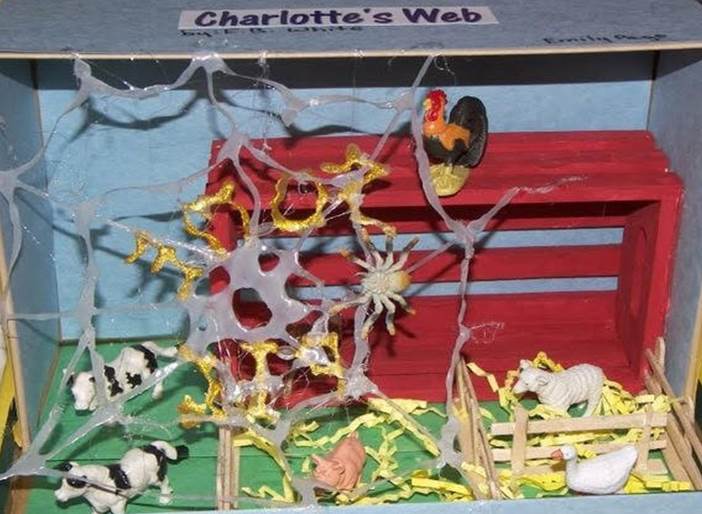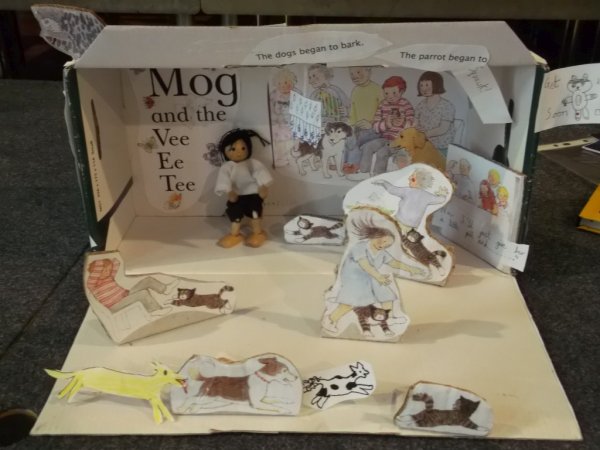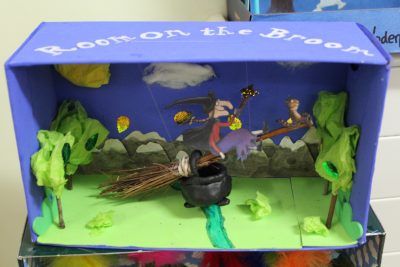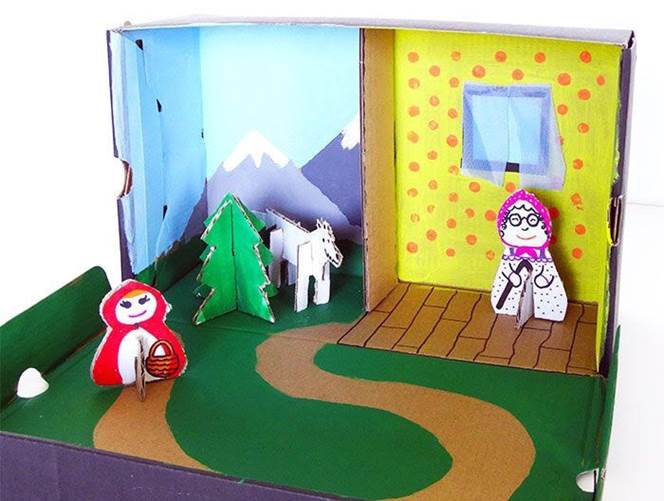 Year 1 – Reading List
The Cat in the Hat, Dr Seuss
The Tiger Who Came to Tea, Judith Kerr
Hairy Maclary, Lynley Dodd
The Large Family Collection, Jill Murphy
Charlie and Lola, Lauren Child
The Smartest Giant in Town, Julia Donaldson
The Gruffalo's Child, Julia Donaldson
The Gigantic Turnip, Aleksei Tolstoy
The Whisperer, Nick Butterworth
Mrs Armitage on Wheels, Quentin Blake
The Trouble with Jack, Shirley Hughes
My Friend Bear, Jez Alborough
Avocado Baby, John Burningham
A Bear Called Paddington, Michael Bond
Funnybones, Allan Ahlberg
The Hodgeheg, Dick King-Smith
The Jolly Postman, Allan Ahlberg
Mister Magnolia, Quentin Blake
Katie Morag Series, Mairi Hedderwick
Frog and Toad are Friends, Arnold Lobel
The Princess and the Pea, Minnie Grey
Amazing Grace, Mary Hoffman
Don't Forget the Bacon, Pat Hutchins
Emperor of Absurdia, Chris Riddell
The True Story of the Three Little Pigs, Jon Scieszka
Anna Hibiscus, Atinuke
Ask Me, Antje Damm
Where the Wild Things Are, Maurice Sendak
Year 2 – Reading List
The Cat Who Lost His Purr, Michelle Coxon
Frightened Fred, Peta Coplans
Friends, Kim Lewis
Mog Stories, Judith Kerr
Mr Wolf's Pancakes, Jan Fearnley
Frog is Frog, Max Velthuijis
Cat and Mouse Story, Michael Rosen
The Snow Lady, Shirley Hughes
Grace and Family, Mary Hoffman and Caroline Binch
The Adventures of Captain Underpants, Dav Pilkey
The Diary of a Killer Cat, Anne Fine
Little Wolf's Book of Badness, Ian Whybrow
The Magic Finger, Roald Dahl
Mrs Wobble the Waitress, Allan Alhberg
Pirate School: Just a Bit of Wind, Jeremy Strong
George's Marvellous Medicine, Roald Dahl
The Giraffe, Pelly and Me, Roald Dahl
The Guard Dog, Dick King-Smith
Emily's Legs, Dick King-Smith
I will not ever NEVER eat a tomato, Lauren Child
A Dark, Dark Tale, Ruth Brown
Lima's Red Hot Chilli, David Mills and Derek Brazell
Monster Bed, Jeanne Willis and Susan Varley
Clever Polly and the Stupid Wolf, Catherine Storr
Not Now, Bernard, David McKee
T.Rex, Vivian French and Alison Bartlett
J is for Jamaica, Benjamin Zephaniah and Prodeepta Das
The Lighthouse Keeper's Lunch, Ronda and David Armitage
Year 3 – Reading List
Mr Popper's Penguins, Richard & Florence Atwater
Woof! Allan Ahlberg
The Giant Baby, Allan Ahlberg
Ms Wiz Series, Terence Blacker
Whizziwig, Malorie Blackman
Mrs Armitage, Quentin Blake
Freckle Juice, Judy Bloom
Flat Stanley, Jeff Brown
Utterly Me, Lauren Child
Clarice Bean, Lauren Child
The Sea Piper, Helen Cresswell
The Twits, Roald Dahl
Matilda, Roald Dahl
Charlie and the Chocolate Factory, Roald Dahl
Despereux, Kate DiCamillo
Diary of a Killer Cat, Anne Fine
Bill's New Frock, Anne Fine
The Day I Swapped my Dad for a Goldfish, Neil Gaiman
The Iron Man, Ted Hughes
How the Whale Became, Ted Hughes
The Hodgeheg, Dick King-Smith
The Golden Goose, Dick King-Smith
The Dog who changed the World, Robert Leeson
Pippi Long Stockings, Astrid Lindgren
The Stowaways, Roger McGough
The Butterfly Lion, Michael Morpurgo
The Dancing Bear, Michael Morpurgo
The Worst Witch, Jill Murphy
Hansel and Gretel, Jane Ray
Freaky Friday, Mary Rodgers
The Hundred mile an hour dog, Jeremy Strong
My Mum's going to Explode! Jeremy Strong
The True Story of the 3 Little Pigs, Jon Sciezwa​​​​​​​
The Owl who was Afraid of the Dark, Jill Tomlinson
Daisy May, Jean Ure
No Worries! Marcia Williams
Cliffhanger, Jacqueline Wilson
Year 4 – Reading List
It Was a Dark and Stormy Night, Allan Ahlberg​​​​​​​
The Monster Crisp Guzzler, Malorie Blackman
The Secret Seven, Enid Blyton​​​​​​​
The Legend of Spud Murphy, Eoin Colfer
Hiccup: How to train your dragon, Cressida Cowell
Love that Dog, Sharon Creech​​​​​​​
Just William, Richmal Crompton​​​​​​​
Danny the Champion of the World, Roald Dahl
The BFG, Roald Dahl
Bill's New Frock, Anne Fine
The Boy Who Could Fly, Sally Gardner
The Invisible Boy, Sally Gardner
Grandpa Chatterji, Jamila Gavin
Blabbermouth, Morris Gleitzman
Toad Rage, Morris Gleitzman
The Reluctant Dragon, Kenneth Graham
Groosom Grange, Anthony Horowitz
Enchantment in the Garden, Shirley Hughes
Little House on the Prarie​​​​​​​, Laura Ingalls Wilder
Emil and the Detectives, Erich Kastner
Dragonboy, Dick King-Smith
The Sheep Pig, Dick King-Smith
The Toby Man, Dick King-Smith
Dr Doolittle, Hugh Lofting
The Dog Who Could Dig, Jonathan Long
The Dead Letter Box, Jan Mark
The Wreck of Zanzibar, Michael Morpurgo​​​​​​​
The Firework Maker's Daughter, Phillip Pullman
Swallows and Amazons, Arthur Ransom
101 Dalmations, Dodie Smith
A Series of Unfortunate Events, Lemony Snicket​​​​​​​
There's a Viking in my Bed, Jeremy Strong
Fatbag: The Demon Vacuum Cleaner, Jeremy Strong
The Mum Trap, Ruth Symes​​​​​​​
Mary Poppins​​​​​​​, P.L. Travers
Pongwiffy, Kaye Umansky​​​​​​​
Dragon Keeper, Carole Wilkinson
The Lottie Project/ Buried Alive, Jacqueline Wilson
Year 5 – Reading List
The Snow Queen, Hans Christian Andersen
Peppermint Pig, Nina Bawden
Thief, Malorie Blackman
Alice in Wonderland, Lewis Carroll
Artemis Fowl, Eoin Colfer
Benny and Omar, Eoin Colfer
Boy, Roald Dahl
Madame Doubtfire, Anne Fine
Flour Babies, Anne Fine
The Family from One End Street, Eve Garnett
2 Weeks with the Queen, Morris Gleitzman​​​​​​​
The Diamond of Dury Lane, Julia Golding
The Little White Horse, Elizabeth Goudge​​​​​​​
The Secret Garden, F Hodges Burnett
Stormbreaker, Anthony Horowitz
The Iron Woman, Ted Hughes
The Secret Platform, Eva Ibbotson
Stig of the Dump, Clive King
The Water Horse, Dick King-Smith
The Jungle Book, Rudyard Kipling
The Revenge of Samuel Stokes, Penelope Lively
Kensuke's Kingdom, Michael Morpurgo
Singing for Mrs Pettigrew, Michael Morpurgo
The War of Jenkins Ear, Michael Morpurgo
Wind Singer, William Nicolson​​​​​​​
The Borrowers, Mary Norton
Wolf Brother, Michelle Paver
Harry Potter, J.K. Rowling​​​​​​​
A Series of Unfortunate Events, Lemony Snicket​​​​​​​
The Wrinklies​​​​​​​, Alan Temperley​​​​​​​
Becky Bananas, Jean Ure
The Cats of Seroster​​​​​​​, Robert Westall​​​​​​​
Best Friends, Jacqueline Wilson
Chinese Cinderella, Adeline Yen Mah
Year 6 – Reading List
Carrie's War, Nina Bawden
When Hitler Stole Pink Rabbit, Judith Kerr
Forgotten Voices of the Second World War, Max Arthur
The Diamond of Drury Lane, Julia Golding
Framed, Frank Cottrell Boyce
Homecoming, Cynthia Voigt
Noughts and Crosses, Malorie Blackman
Knife Edge, Malorie Blackman
Private Peaceful, Michael Morpurgo
The Secret Diary of Adrian Mole Aged 13 ¾, Sue Townsend
Treasure Island, Robert Louis Stevenson
Mortal Engines, Philip Reeve
Clockwork, Philip Pullman
Dragon Keeper, Carole Wilkinson
The Curious Incident of the Dog in the Night-Time, Mark Haddon
Peter Pan, J M Barrie
Wizard of Oz, F Baum
Robinson Crusoe, Daniel Defoe
Oliver Twist, Charles Dickens
Jungle Book, Rudyard Kipling
The Railway, Children E Nesbit
The Borrowers, M Norton
The Adventures of Huckleberry Finn, Mark Twain
Alex Rider series, Anthony Horowitz
My Story series, Various authors
Anne Frank: The Diary of a Young Girl, Ed. Otto H Frank
Boy Overboard, Morris Gleitzman
Sabriel, Garth Nix
Rooftoppers, Katherine Rundell​​​​​​​
The Graveyard Book, Neil Gaiman​​​​​​​
The Nowhere Emporium, Ross Mackenzie
Who Let The Gods Out, Maz Evans
The Legend of Podkin One-Ear, Kieran Larwood
George, Alex Gino
Holes, Louis Sacher​​​​​​​
Cogheart, Peter Bunzl​​​​​​​